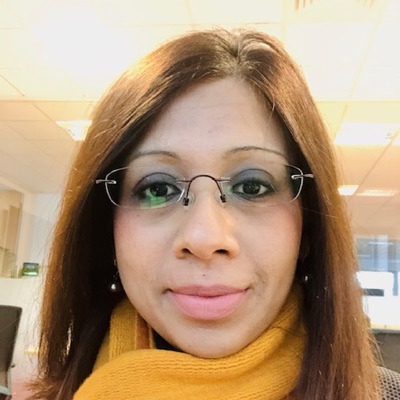 My interests lie within applied multidisciplinary research. With a first degree in Chemistry, I started my career as a technical writer and then moved into multidisciplinary research with an MSc in Computational Biology and then a PhD in Computer Science.  
Here at HDI working as a Data Scientist, I currently manage the data on the UKCI funded CORECT-R project in collaboration with Professor Eva Morris from the University of Oxford.
Out of work, I love finding new running/walking routes, exploring the philosophy and history of `anything' and indulging in a bit of healthy (some-what!) baking.
Tameera has a first degree in Chemistry with Biotechnology and started her career as a technical writer for a tech company in India. Keen to pursue her interest in interdisciplinary research she studied for a masters by research in computational biology where she researched maximum likelihood and neighbour joining methods for building phylogenetic trees for antibiotic producing bacteria.  During her PhD she used machine learning techniques to design in-silico models to predict viral antigenic variability in viruses to expedite the vaccine design process. This involved normalising large genomic and serological datasets before statistically analysing them to look for patterns/relationships to identify variables for mathematical models.
Here at HDI, Tameera manages the data on the colorectal cancer intelligence hub, which aims to bring together all the datasets that are relevant to colorectal cancer in the UK to form a single accessible cancer data repository (CORECT-R) to ultimately drive improvements in colorectal cancer outcomes. Her role involves generating data in yearly schemas, extracting data sets for the clinical teams in the wider CORECT-R project, ensuring the integrity and security of the data, reporting on and updating the relevant metadata.
Education and Awards:
PhD in Computer Science – 2017
University of Surrey, Guildford, United Kingdom
MSc in Computational Biology (Distinction) – 2012
University of East Anglia, Norwich, United Kingdom
MA in Media Management (Distinction) – 2008University of Westminster, London, United Kingdom
BSc in Chemistry and Biotechnology (First) – 2006
Bangalore University, Bangalore, India
Selected Publications:
Rahman, T., Mahapatra, M., Laing, E., and Jin, Y., (2015). Evolutionary Non-linear
Modelling for Selecting Vaccines Against Antigenically-variable Viruses. Bioinformatics, 31(6),834-840.
Rahman, T., Laing, E., and Jin, Y. Modelling for Predicting Antigenic Variability in Foot-and-Mouth Disease Virus. Parallel Problem Solving from Nature Workshop on Modelling Biological Systems; 2012 Sept 1; Taormina, Italy.
Rahman, T., Laing, E., and Jin, Y. Correlation Study of Amino Acid Variability and Antigenic Variability in Foot-and-Mouth Disease Virus. 9th Annual Computing Conference; 2012 March 21; Guildford, UK.